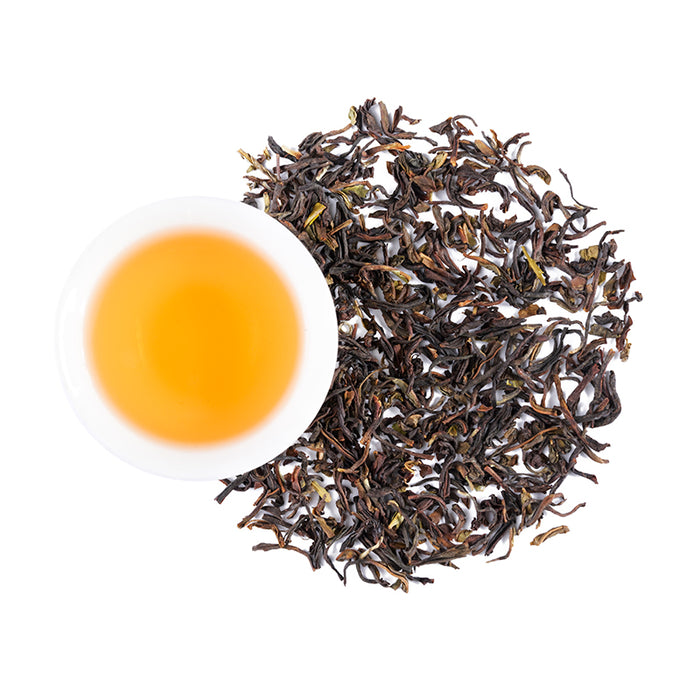 Organic Nilgiri Winter Frost (BC)
Experiencing Nilgiri tea is a grand reflection of the great voyage of discovery on a Victorian style steam train into the clouds. Unlike the careered chaos of reaching the train station dodging through winding lanes in ear piercing noise, the journey to Nilgiri is an odyssey to tranquility.  The track rises from 325m above sea level at the start of the journey to 2,240m at Ooty. The train slowly moves forward, rising up a steep path at no faster speed than an ironman jogging pace. The acceleration is deceitful. Before long the train has risen high up the mountains. As the locomotive chugs along, it hugs to the mountain side and sheer drops fall away to verdant valleys below, making this a breath-taking and dramatic journey to discover one of the finest high mountain teas in the world. After navigating 250 bridges and passing through 16 tunnels we have arrived at the home of True High Mountain Tea, and the source of our Nilgiris Winter Frost tea.
Medium-bodied, exquisitely aromatic, with delicate floral notes. the bright golden yellow liquor shows well-structured tannins and possesses spicy, fruity, and slightly malty aromas. It finishes with lingering notes of  fruit and minty mouth feel.

Organic: Yes
Fair Trade: Yes
Rainforest Alliance: Yes
Origin: Nilgiris, India
Quality: Reserve