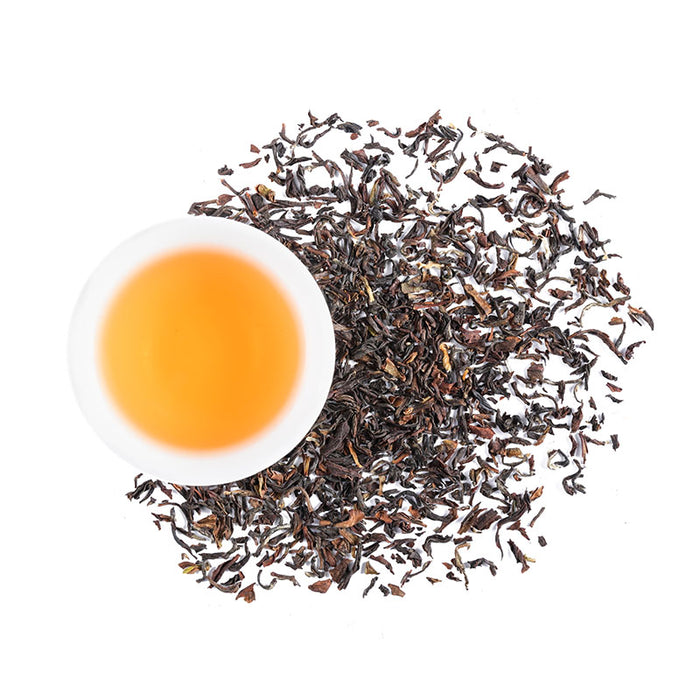 Organic Darjeeling Muscatel Second Flush (BC)
My journey for the extraordinary. High in the foothills of the Himalaya, nestled among the rolling mountains with the shimmering Mt Kanchenjunga soaring over the azure sky, Darjeeling affectionately called "Queen of the Hills", and "the Champagne of Teas," provides a perfect gateway for those seeking a connection with the universe because sometimes the only way to connect is to disconnect. As the sun began to melt into the horizon and colors shift across the Himalayan landscape, I enjoyed my meditative walk, meandering through ancient villages and getting stuck in the evening "rush hour" of a few goat herders returning home. Then I stopped by at an unpretentious cafe on the side of the road. I finally discovered the extraordinary. The finest Darjeeling second flush tea singling with muscatel flavors. It is no wonder this tea is revered by connoisseurs around the world.
The Darjeeling Muscatel is a master blend of 2nd flush teas from iconic Darjeeling gardens. Silky texture, floral, with a hint of minerality. Medium-bodied, richness, depth, intensity, and unique muscatel notes. The finish is long, intense, and tannic. 
Organic: Yes
Fair Trade: Yes
Rainforest Alliance: Yes
Origin: Darjeeling, India
Quality: Reserve